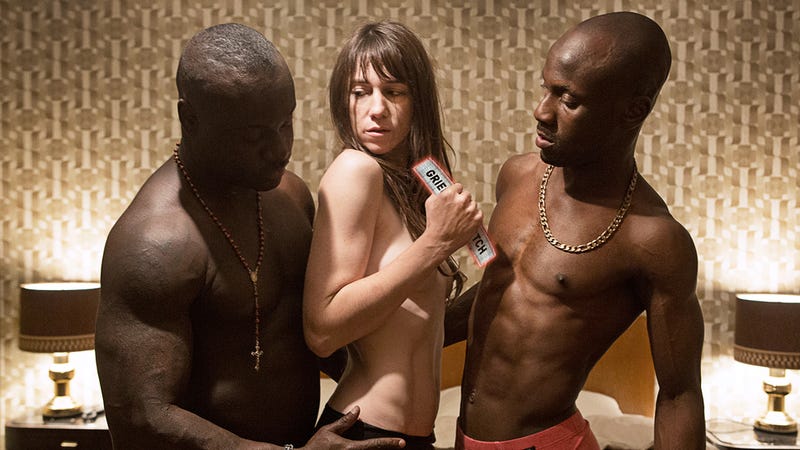 1. You know, I probably should have seen this coming. The first half of Lars Von Trier's Nymphomaniac two-parter was confrontational and insane, as you'd expect, but it was also, surprisingly, funny and daring and light on its feet. It was as if Von Trier, finishing up his Depression Trilogy, couldn't help finally having a little bit of fun with form and structure, even if he was determined to show us the depths of human depravity and sadness. It makes sense, though, that Von Trier, in the back half of his big statement on female sexuality (and all other matters that terrify Lars Von Trier), would stop flopping around in the mud and instead wallow in it. Nymphomaniac, Part II is the dreary dirge I feared the first film would be. It's like he got scared of enjoying himself.
2. We pick up the proceedings almost exactly where we left off, which leaves me doubting these are the two distinct films that Von Trier—who was forced to cut down from his original four-hour version—initially claimed they were. Joe (played almost exclusively now by the older Charlotte Gainsbourg) is still telling the story of her insatiable nymphomania to the rapt, cerebral Seligman (Stellan Skarsgård), who we discover in this film is a virgin. (He considers himself asexual, a handy designation when hearing a woman telling you stories of her thousands of sexual partners.) This device was self-consciously artificial in the first film but veers closer to parody and absurdity here as Von Trier takes it more seriously. It turns out that the story Joe tells ends with her directly outside Joe's flat, where he found her at the beginning of the first film. In other words: Von Trier isn't using these framing device as a silly, easy way to tell Joe's story; he wants it to mean something. The structure is far too flimsy to carry any of that weight, and its collapse makes you question everything you thought you'd been enjoying.
3. Now that we're away from Joe's youthful dalliances, she's played full time by Gainsbourg, which is a step forward because she's such a good actress. (Stacy Martin, who played the young Joe, was fine but a bit of a blank; Joe feels like more of a fully realized character with Gainsbourg taking complete control of the role.) Her big crisis point is when she realizes she can no longer have an orgasm—this being Von Trier, she discovers this by smashing her crotch with a rolled-up wet rag—and signs up as a sadomasochist's toy. The most compelling scenes in the film involve Gainsbourg being beaten and punched by a game and intense Jamie Bell. Her relationship with him and the pain becomes so fraught and co-dependent that she is willing to walk away from her husband and child so that she does not miss a single appointment. This loss sends her into more despair, and this is where the film goes off the rails.
4. The film's final gambit, to have Joe work as an enforcer for extortionists—the idea being that she has no natural empathy and also deeply understands men and their desires—is not a bad one, but it turns the film into one of therapy rather than one of redemption. It turns Joe into a problem to be solved, allowing Von Trier to dive even further into his world of paranoia and self-hatred. We go from a hilarious scene in which Joe attempts to have a threesome with two African brothers whom she can't understand—she watches them quarrel about who gets which end of her before she just gives up and leaves the room—to Joe sitting in self-help groups about how to best cure her "addictions." (Leading to a scene in which she paints over her mirror so she won't have to look at herself.) Von Trier can never quite figure out if he wants to celebrate Joe or lambaste her. The film is stronger when it just lets her be, a woman simply living her life the way she wants, but Von Trier is too much of a depressive to just let all that stand. There must be suffering.
5. Which leads to an absolutely awful ending in which Von Trier decides that for all his talk of liberation and free-mindedness, he's at heart a cynic, and not a particularly original one. Seligman tells Joe that she should not be as hard on herself as she has been throughout the telling, that the choices she made for desire are only criticized by society because she is a woman, and that if she were a man, the world would still have a place for her. This is true, and not a bad point, but then Von Trier can't leave well enough alone. He can't help but give us one big, sensationalistic, exploitative trick, and it's so obnoxious and sneering that you want to take the film and throw it against the wall. Von Trier is so talented and has so many things to say, but at the key moment, he'll always back away, sniveling, sniggering along. The four hours of the Nymphomaniac films contain countless memorable moments and some scenes of sublime perfection. But Von Trier can't stop there. He keeps trying to pick at you. At the end of Nymphomaniac, Part Two, he picks once too often and ruins just about everything that came before. There is much to see here. But I'm pretty sure I don't want to see any of it again.
Grade: C.
---
Grierson & Leitch is a regular column about the movies. Follow us on Twitter, @griersonleitch.